Homemade Gyoza
I absolutely love Gyozas and you will too as soon as you see how easy they are to prepare at home! Gyozas are little Japanese dumplings with various fillings. Sometimes they are called potstickers because of their crispy bottoms which stick to your pan. Most people don't realise that Japan has more than sushi to offer. Usually you will find gyozas on the menu of authentic Japanese restaurants. My homemade Gyozas are filled with prawns, minced pork, cabbage and loads of spices. 
If you are going to try this recipe I would love to see your pics, so share your take on this or any other of my recipes! Tag me on Instagram as @fifthfloorkitchen and use #fifthfloorkitchen hashtag.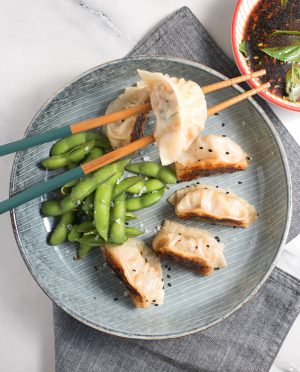 Lovely potstickers filled with prawns, minced pork and cabbage
Gyoza dough

1/4

small

cabbage

150

gram

minced pork

200

gram

raw, peeled prawns

2

cm

ginger

2

tsp

sesame oil

2

tbsp

soy sauce

1

tbsp

oyster sauce

0,5

lime (juice)

1

tsp

sambal oelek

1

tsp

mirin

cornflour for dusting

vegetable oil
dipping sauce
1

fresh hot chili

soy sauce

sesame oil

0,5

lime (juice)
For the dipping sauce: Mix all the dipping sauce ingredients and serve alongside the dumplings in a dipping bowl.

Chop the cabbage and ginger finely. Put it in a bowl and add lime juice, sambal oelek, mirin, oyster sauce, soy sauce and sesame oil and mix together. Chop the raw prawns really fine and add to the cabbage mix. Mix by hand and add the minced pork.

Prepare a small bowl of water for wrapping up the Gyozas and a plate sprinkled with corn flour.

To assemble the gyozas, put a heaped teaspoon of the filling onto the centre of the skin. Dip your finger in the water and wipe around the edge of the skin. Take it in your hand and bring the edges of the skin together. Fold it into half and pinch small pleats along the edge. Press the pleats well together and make sure your Gyoza is sealed! Put each gyoza onto the cornflour dusted plate. You can prepare the Gyozas half a day ahead, just keep them chilled.


Cook the gyozas in a non-stick frying pan - with a lid! - with 1 tbsp vegetable oil. Brush off any excess cornflour from the bottoms of the potstickers. Cook them in batches, they will stick together if you put too many into the pan. Fry the gyoza on one side only. Don't turn them over! It will take about 2 minutes until they are brown. When ready add a good splash of water to the pan and cover with a lid. Reduce the heat and cook for 3-5 mins until the water has evaporated and the gyoza filling is cooked through. Keep them warm in the oven until you have cooked the rest.

Put the Gyozas on plates, sprinkle with fleur de sel and sesame seeds and serve with dipping sauce!