Let's get into Oktoberfest mood with this amazing fried Weisswurst salad
Yes, it's that time of year again! Time to jump into your Dirndl or your Lederhosen, and off you go to the famous Theresienwiese in Munich. Have a Mass of beer or two and some grilled chicken or even better a leg of roasted pork. Oktoberfest in Munich is a fantastic experience. While I was living in Munich I went to the Wiesn almost every day while it was on. Sometimes just to grab some food of the many delish food stalls. So as I'm not living in Munich anymore I'm getting into Oktoberfest mood with this amazing fried Weisswurst salad. 
I served it on top of some lamb's lettuce with Styrian pumpkin seed oil and mustard dressing. To make the recipe fructosefriendly I used Dijon mustard for the dressing. Swap the Dijon to some proper Bavarian sweet mustard to get the whole Oktoberfest package. The recipe is really simple but a real eye opener! Serve it with fresh lye Brezen and of course, some beer! Delicious!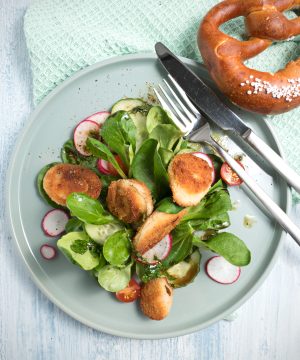 Wash the lamb's lettuce and pad dry. Wash and peel the cucumber and cut in thin slices. Wash and trim the radishes and cut in thin slices. Wash and chop the parsley

Take the skin of the fresh Weisswurst and cut diagonal into 2 cm slices. Prepare a bowl with flour, a second bowl with 2 eggs mixed with milk, Worcester sauce and Sambal Oelek. And a third bowl with the breadcrumbs. First turn your slices of Weisswurst in flour, then move them over to the egg mixture and at the end turn them in bread crumbs.

Heat up some oil and ghee in a big pan and fry your Weisswurst slices until golden brown from both sides. When ready take them out of the pan and let them rest for 1 minute on some kitchen paper.

For the dressing: Mix the Styrian pumpkin seed oil, mustard, white wine vinegar and rice syrup. Add salt, pepper and chopped parsley and stir.

Arrange the lamb's lettuce, cucumber slices, radishes and tomatoes on plates. Top with your Weisswurst slices and drizzle with your dressing. Serve with some proper Bavarian lye Brezen.