Creamy dreamy prawn risotto
I've never made a creamier risotto than this creamy dreamy prawn risotto. It's so delicious and I'm absolutely sure you won't mind the "not so traditional" secret ingredient. But more to that later. If you follow my blog you know I'm a risotto lover. They come in all colours from vibrant green pea and herb risotto, to pink beetroot risotto or this elegant chanterelle risotto. Just search for "risotto" and you will find even more recipes!
Share your take on this creamy dreamy risotto or any other of my recipes! Tag me on Instagram as @fifthfloorkitchen and use #fifthfloorkitchen hashtag. I love seeing your pics! By the way have you seen that you can create your own watchlist with all of your favourite recipes from the blog?! Give it a try!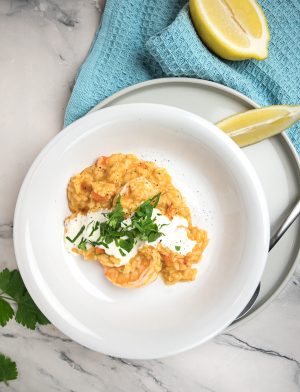 Peel carrots and parsnip and cut into 1 cm cubes. Wash and slice celery stalks into 1 cm slices.

Remove shell and heads from prawns. Heat up 2 tbsp of olive oil in a large sauce pan. Add the heads and shells and cook about 5 minutes until bright red and fragrant. Now add the tomato paste, give it a good stir and cook until it starts to stick to the bottom of the sauce pan. Deglaze with half of the white wine and give it a good stir. Add half of the carrot, parsnip and celery cubes, thyme sprigs, peel of half a lemon, juice of 1 lemon and about 1000 ml water. Let it simmer for about 40 minutes.

When ready strain stock trough a sieve and put aside. You should have about 500-600 ml prawn stock.

For the risotto heat up 2 tbsp olive oil in a pot and add your veggie cubes. After 3 minutes add the Arborio rice and let it steam for a minute. Deglaze with the rest of the white wine and bring it briefly to boil. Add some of your prawn stock so that the rice is completely covered. Keep on gentle stirring your risotto – don't go away, keep stirring! After all your prawn stock has been soaked up add some more of it. Keep on with this procedure until your risotto is creamy (takes about 15-20 minutes). If you run out of prawn stock and your risotto isn't ready yet, add plain water.

When your risotto rice is almost ready add half of the mascarpone and keep on stirring gently. Now add the tiger prawns, stir in well and let them cook for 2 minutes. Season to taste your creamy dreamy risotto with pepper, salt and chili flakes to taste.

Mix the rest of the mascarpone with 2 tbsp of water and season to taste with salt an pepper. Wash, pad dry and chop the parsley.

Divide the risotto to your plates, add some mascarpone, sprinkle with parsley and serve with a wedge of lemon. Bon appetit!