It's pink, it's yummy, it's got to be the worlds best beetroot risotto!
I don't understand how anybody could not like beetroot. Beets are so delicious, they are unbelievable healthy and with their vibrant pink colour they are so much fun to eat. Also, beets are so versatile! You can eat them raw as a carpaccio or in a salad, make beetroot smoothies, make a beetroot spread, oven roast them or make this beautiful pink beetroot risotto.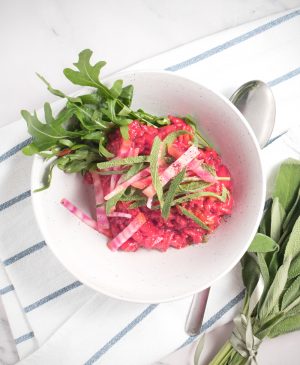 Beautiful beetroot risotto
Peel the parsnip and cut it brunoise (in small cubes). Wash all the beets. Peel two of them and cut them into small 3 cm cubes. Juice the rest of your beets with a juicer and fill up the raw juice with veggie stock so you have about 700ml fluid. Grate your parmesan, finely chop a bit of your sage and set aside.

Heat up olive oil in a pot and add your parsnip and half of your beetroot cubes. After a minute add the Arborio rice and let it steam for a minute. Deglaze with white wine and bring it briefly to boil. Add some of your vegetable beet stock so that the rice is completely covered. Keep on gentle stirring your risotto – don't go away, keep stirring! After all your vegetable stock has been soaked up add some more vegetable stock. Keep on with this procedure until your risotto is creamy (takes about 15-20 minutes).

When your risotto rice is almost ready add the rest of your beetroot cubes, your grated Parmesan cheese and keep on stirring gently. Now season your beetroot risotto with pepper, salt and the chopped sage.

Put the risotto on plates and add some rucola. You can also add some thin slices of sage and of course some more Parmesan.

Bon Appetit!