This yummy El Cuyo ceviche will send you on a mini-break to Mexico
We travelled the Yucatán Peninsula two years ago and I literally ate myself through southeastern Mexico. The food there was fantastic and totally different to the "Mexican" food we get served in Europe, of course! All the fresh fish, ripe avocados, tortillas and tacos made from corn flour, spicy chilis and a bit of Mezcal made this vacation very special. One of my favourite food discoveries on this journey was definitely this yummy ceviche.
Poké
. If you like these dishes you are going to love ceviche! It's also perfect if you are on a fructosefree diet because my recipe is completely without onions or garlic. And if your body can't handle tomatoes or green peppers just leave out or add the veggies you can eat easily!
Try this recipe and it will send you on a mini-break to Mexico! Share your take on this or any other of my recipes, I would love to see your pics. Tag me on Instagram as @fifthfloorkitchen and use #fifthfloorkitchen hashtag.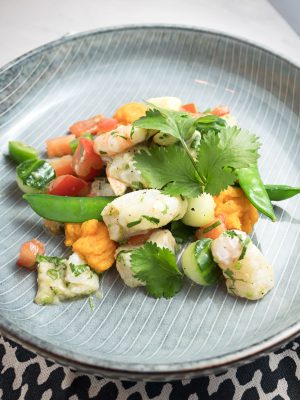 This ceviche will send you on a mini-break to Mexico!

250

gram

freshest white fish (seabass, seabream, etc)

150

gram

fresh, raw tiger prawns

1

handful

sugar snaps

1-2

ripe

tomatoes

1

ripe

avocado

3-4

fresh limes

1

bunch

coriander

1-2

sweet potato

1

fresh

spicy habanero chili

salt

pepper

1

bell pepper (green or yellow)

1

small

lebanese cucumber

40

gram

butter

100

ml

milk

1

pinch

nutmeg
Bring a pot of salted water to a boil. Peel and cook prawns in boiling water until they are pale pink, takes about 5 minutes. Take them out, drain them under cold water and set aside.

Bring another small pot of salted water to a boil and blanch the sugar snaps for about 4 minutes. Take them out, drain them under cold water and set aside.

Peel the sweet potato and cook in a small pot for about 15 minutes. When soft, drain the water add butter and the milk and mash the potatoes with a potato masher. If you prefer a more delicate puree, press through a sieve. Season to taste with salt and a pinch of nutmeg. Put a lid on your sweet potato puree and set aside.

Wash and cut the cucumber in 2 cm cubes. If you have a rotary cutter, cut little balls out of the cucumber. Wash the tomatoes and remove seeds inside. Cut the tomato in 2 cm cubes and set aside with the cucumber.
Prepare the avocado and also cut into 2 cm cubes.

Wash the coriander and pad dry. Chop half of the bunch and keep the rest for decoration. Chop the habanero chili.

Sqeeze the limes with lemon squeezer.

Now take out the fish of the fridge. Clean, wash and pad dry the fish. Cut it in 2 cm cubes and add it to a metal bowl with your prawns. Now season with salt and pepper. Mix together properly for a minute and then add 3/4 of the lime juice. Again give it a good stir. Now add the avocado, tomatoes, cucumber and sugar snaps. Mix together. Now season to taste with your chopped chili (careful), salt, pepper and chopped coriander. If needed add a bit more lime juice.

Put some of the sweet potato puree on your plates and add the ceviche. Decorate with fresh coriander and serve with tortilla chips! Bon Appetit!