Beautiful chanterelle risotto with parmesan and blueberries
The summer season not only brings us ripe and flavourful tomatoes, sweet strawberries and all sorts of other fresh fruit and veggies, it brings us chanterelles. I absolutely love chanterelles with it's peppery taste, hence the german name Pfifferling. There are so many lovely chanterelle recipes and I would like to share with you my favourite one. It's this beautiful Pfifferling risotto with parmesan and blueberries. Sounds weird?! Well, I believe what grows well together, tastes good together. It's a wonderful pairing and brings out so many flavours.
Share your take on this beautiful chanterelle risotto or any other of my recipes! Tag me on Instagram as @fifthfloorkitchen and use #fifthfloorkitchen hashtag. I love seeing your pics!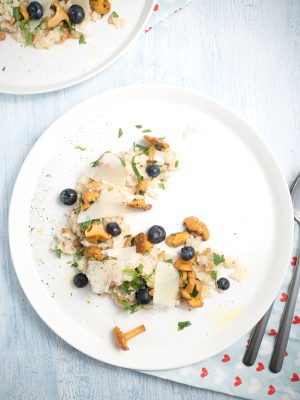 What grows well together, tastes good together: Beautiful chanterelle risotto with parmesan and blueberries.
Peel the parsnip and cut it brunoise (in small cubes). Trim the chanterelles (don't wash them with water, just brush them clean and trim them). Chop 1/3 of the chanterelles in 1 cm pieces and set aside the other 2/3. Wash the blueberries, grate your parmesan, finely chop your parsley and set aside.

Heat up 2 tbsp olive oil in a pot and add your parsnips. After a minute add the chopped chanterelles, and after 3 minutes add the Arborio rice and let it steam for a minute. Deglaze with white wine and bring it briefly to boil. Add some of your vegetable stock so that the rice is completely covered. Keep on gentle stirring your risotto – don't go away, keep stirring! After all your vegetable stock has been soaked up add some more vegetable stock. Keep on with this procedure until your risotto is creamy (takes about 15-20 minutes).

5 minutes before the risotto is ready heat up a medium size pan with 2 tbsp of olive oil and add the chanterelles. Fry the chanterelles for 5 minutes and season to taste with juice of 1/2 a lime, salt, pepper and chili flakes. Add the chopped parsley and stir together gently.

When your risotto rice is almost ready add your grated Parmesan cheese and keep on stirring gently. Now season to taste your chanterelle risotto with pepper, salt.

Arrange the risotto on plates, top it with the lovely parsley chanterelles, a few bluebberies and some big Parmesan shaving. You can also add some parsley sprigs and of course some more pepper. Bon Appetit!