Flavourful beluga lentil and tiger prawn salad
The picnic season is just about to start and it's time to share some alternative recipes to the odd pasta and potato salad. The first picnic recipe is this beluga lentil and tiger prawn salad and it will definitely WOW your guests. In my opinion, it's the only lentil salad recipe you will ever need. The flavours of this beluga lentil and tiger prawn salad are totally outstanding, yet unexpected.
I prefer beluga lentils to all other lentils because of their rich and deeply earthy flavour. It pairs well with tiger prawns, cumin and lemon juice. You could also add some fresh mango or papaya to the salad for some extra sweetness. It's a great summer starter or as I suggested it's a wonderful picnic salad. Prepare it a day before, keep it refrigerated over night and fill it in small Weck Jars for your picnic.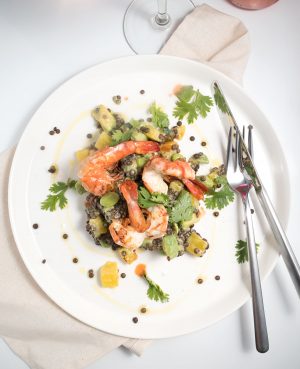 This beluga lentil and tiger prawn salad is a great summer starter and it's a wonderful picnic salad.
Cook the beluga lentils according to the instructions on the package. Note, don't add salt to the cooking water because it doubles the cooking time of the lentils. When ready pour the lentils in a colander and let them cool down.

Meanwhile wash and chop the peppers into 1,5 cm squares. Peel the avocado and cut it in 1,5 cm slices. And wash the cucumber and also cut it into 1,5 cm cubes. Now wash the fresh coriander and roughly chop it, put some whole leaves aside for decorating.

For the dressing squeeze one lemon, white wine vinegar, rice syrup, creme fraiche and add 2 tbsp of olive oil. Season to taste with salt and pepper.

In a big bowl gently mix the lentils, avocado, peppers, chopped coriander and cucumber squares. Add the dressing and let it marinate.

Heat up 2 tbsp of olive oil in a big pan. As soon as it's really hot add the tiger prawns. Season with chopped chili, 2 tsp of ground cumin, juice of 0,5 lime and a pinch of salt. The prawns are ready when shell has turned red and they are starting to get golden brown.

Arrange your salad on plates or use Weck jars. Top your salad with tiger prawns and sprinkle with coriander.

If you like you can add some mango or papaya for some extra sweetness.