Incredibly tasty oven roasted parmesan cauliflower
I have to admit, I'm not a big cauliflower fan. I don't like the smell when you cook it and it's usually overcooked. But I came across this great way of preparing cauliflower on pinterest. It's oven roasted and covered with parmesan. The recipe is so easy and wonderful tasty. This roasted parmesan cauliflower is a perfect weeknight dinner, a great side dish for your sunday roast or even a healthy snack with a glass of wine.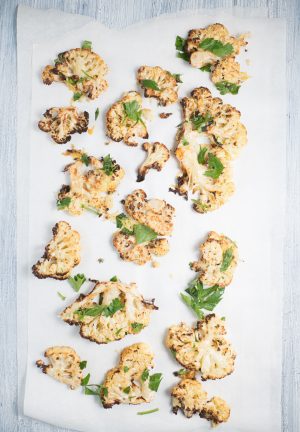 1

cauliflower

1

lime

3

twigs

thyme

1

bunch

parsley

20

gram

grated parmesan

3

tbsp

olive oil

salt

pepper
Preheat your oven to 200°C.

Wash and trim the cauliflower. Cut the whole cauliflower head into 2 cm slices, so you get little treelike looking cauliflowers. Put some baking parchment on a baking tray and arrange your cauliflower trees on the tray. Drizzle with olive oil and sprinkle with thyme. Put the tray into the oven and roast for about 30 minutes or until golden brown. After about 15 minutes sprinkle parmesan over cauliflower and keep roasting.

In the meantime chop the parsley.

When cauliflower is ready take the tray out of the oven. Drizzle with juice of a lime and season to taste with salt and pepper. Bon Appetit!