Fresh Vietnamese style green papaya salad
I love Asian food especially the Vietnamese cuisine. Just a few weeks ago I've been on holiday in Vietnam (find a little trip summary here). For me, Vietnam definitely has the most interesting cuisine in Asia. Therefore, I ate myself through this amazing country. The way they use fresh herbs and veggies is simply fantastic. One of my favourite dishes in Vietnam must be the Vietnamese green papaya salad. You can imagine how excited I was when I saw a fresh green papaya in the fridge of my Asia shop around the corner. This recipe is my kind of green papaya salad. I'm sure it's not original Vietnamese but I think it's pretty close! 
the fish sauce
I brought back from our Vietnam holiday. Only to find out later that you can buy it online!
If you are going to try this recipe I would love to see your pics, so share your take on this or any other of my recipes! Tag me on Instagram as @fifthfloorkitchen and use #fifthfloorkitchen hashtag.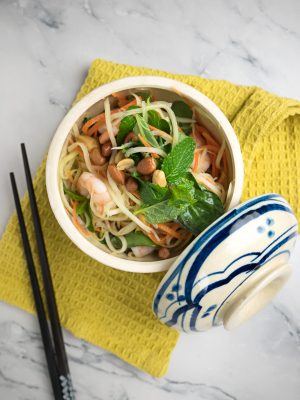 Fresh and spicy Vietnamese style green papaya salad with carrots, fresh herbs and prawns.

1/2

fresh green papaya

2

small

carrots

1

bunch

mint

1

bunch

thai basil

1

bunch

coriander

200

gram

fresh, cooked prawns

1-2

bird's eye chili

2

tbsp

roasted peanuts

2

tbsp

rice vinegar

2

tbsp

fish sauce

1

juice of fresh lime

1

tsp

rice syrup

100

ml

water

1

tsp

sesame oil

salt
Peel the papaya and using a mandoline or fine slicer, slice the papaya into fine matchsticks. Also peel the carrots and slice them thinly. In a bowl, add sliced papaya and carrots and season with 1 tsp salt and let it rest for about 5 minutes.

For the dressing mix rice vinegar, fish sauce, juice of fresh lime, rice syrup, sesame oil and water. Mix together until rice syrup is dissolved.

Add the dressing to the papaya and carrot slices and mix gently. Add the prawns prawns and herbs and season to taste with salt or if you prefer soy sauce.

We are now going to prepare the bird's eye chilis, if you have disposable gloves please wear them. Remove the seeds from bird's eye chilis and finely chop them. Add as much chili slices to the salad as you can handle.

Let the salad marinade for 10 minutes. Serve with roasted peanuts on top! Bon Appetit!