Incredible wonton soup with shrimp fillling
I absolutely love Chinese wonton soup! And if I knew before that it was so quick and easy to make I would have made it way more often. It was my first attempt and look at the picture, for a first it's pretty ok. The recipe is really simple and with all the fresh veggies it's also incredibly healthy. It's with a shrimp filling but you could also make it with chicken. Have a look at the recipe and vary the ingredients with your favourite veggies.
You can find frozen wonton wrappers and thai basil at almost every Asian supermarket. I don't need to mention that the recipe is absolutely fructosefriendly and a perfect weeknight dinner. Have you seen my Facebook page and Instagram feed yet? I would love to see your pics, so share your take on this incredible chinese wonton soup or any other of my recipes! Tag me on Instagram as @fifthfloorkitchen and use #fifthfloorkitchen hashtag.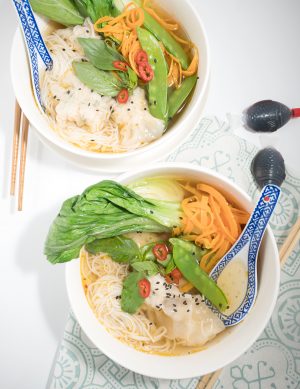 Incredible chinese wonton soup with shrimp filling
2

small

pak choi

2

carots

1

handful

sugar snaps

150

gram

thin rice noodles

750

ml

organic chicken stock

1

bunch

thai basil

sesame oil

soy sauce

sambal oelek

fish sauce

sesame seeds
Wash and cut the pak choi in quarters. Wash and peel the carrots and spiralize them. Wash and trim the sugar snaps.

Defrost the wonton wrappers and prepare the wonton filling. Chop the organic shrimps and season the minced shrimps with soy sauce, oyster sauce, rice syrup, fresh grated ginger sesame oil and a bit of pepper. Wrap up your wontons and set them aside on a plate of cornflour.

Cook the rice noodles according the package instructions. Rinse them with cold water as soon as the are ready and set aside.

Bring your chicken stock to a boil and add sesame oil, soy sauce, fish sauce and a bit of sambal oelek. Depending on how spicy you like your wonton soup.

In a medium size pot bring salted water to a boil and cook the wontons in it for 4 minutes. Don't cook your wontons in your chicken broth because the cornstarch will blur your broth.

While your wontons cook add your vegetables to your chicken broth and cook them for 4 minutes.

Add your rice noodles, wontons, vegetables to your bowls and add some hot chicken broth. Add some fresh thai basil, slices of fresh chili and sprinkle with roasted sesame seeds.