Healthy style loco moco for some holiday feeling
Have you ever heard of loco moco? Sounds crazy, doesn't it! Loco moco is a Hawaiian dish and consists of white rice, topped with a hamburger patty, a fried egg and brown gravy. I stumbled over it on pinterest. The original recipe doesn't look so yummy, so I changed a few ingredients and made a healthy and nice looking version of the traditional Hawaiian dish. My healthy style loco moco will send you on a little holiday to Hawaii.
This crazy recipe is perfect for casual dinner and you can easily have any leftovers for lunch the next day. If you can't get green papaya then swap it for cucumber or cabbage and make a nice pineapple slaw. If you want a really, really healthy version of this loco moco the fry your eggs in water instead of oil!
Do you like this surfer style holiday recipes? Then I'm sure you are going to like this Matcha Salmon Poke! Share your take on this fresh and delicious loco moco recipe or any other of my dishes! Tag me on Instagram as @fifthfloorkitchen and use #fifthfloorkitchen hashtag. I love seeing your pics!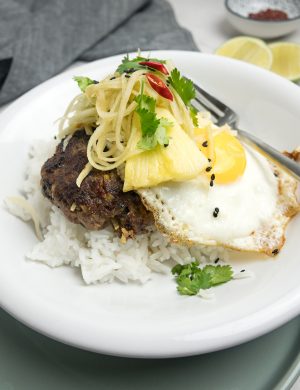 Loco moco - jasmine rice, a spicy burger patty, fresh green papaya and pineapple salad, fried egg sunny side up and sesame ginger dressing

patties
400

gram

mixed minced meat

20

gram

breadcrumbs

1

tbsp

sambal oelek

2

tbsp

soy sauce

2

cm

peeled ginger finely chopped

1

bunch

chopped coriander and some extra for decoration

200

gram

jasmine rice

Vegetable oil for frying

2

fresh

free range eggs

2

tbsp

black sesame seeds and some extra for decoration
sesame dressing
2

tbsp

sesame oil

2

tbsp

soy sauce

2

tbsp

rice vinegar

1

tbsp

mirin

juice of a lime

1

cm

grated ginger

2

tbsp

vegetable oil

salt

pepper
green papaya and pineapple salad
1

small

green papaya

1/2

pineapple
Cook the jasmine rice according to the package instructions.

Combine minced meat and bread crumbs chopped ginger and chopped coriander in a bowl. Season to taste with sambal oelek and soy sauce and mix well with your hands. Add sesame seeds and divide into 4 same size patties. Let them rest for about 30 minutes in your fridge.

Peel the papaya and using a mandoline or fine slicer, slice the papaya into fine matchsticks. In a bowl, add sliced papaya and season with 1 tsp salt and let it rest for about 5 minutes.

Meanwhile peel and cut the pineapple into small slices.

For the dressing mix the ingredients well together and season to taste.

Before serving marinade green papaya and pineapple in the dressing.

Heat up some vegetable oil in a pan over medium-high heat and add patties once hot. Fry them on each side for about 2-3 minutes, or until browned and cooked through. Put the patties out and wipe out pan with paper towels. Add some more vegetable oil and fry the eggs over medium heat until cooked to your liking.

Divide some jasmine rice on your plates, add patties and fried egg and top with green papaya pineapple salad. Drizzle with the rest of the dressing and sprinkle with coriander and sesame seeds. Bon Appetit!