Amazing Matcha Salmon Poke Bowl with ruby grapefruit dressing
It took me two attempts to become friends with matcha. I still don't like matcha latte or plain matcha tea but I grew quite fond of using matcha powder as spice for savoury or sweet dishes. Like in this amazing matcha salmon poke bowl with a ruby grapefruit dressing. The pairing of the earthy matcha in the sushi rice, the sweet salmon and the tangy taste of the grapefruit is simply amazing. 
Poke bowls all over instagram these days because they are not only healthy but because they are so delicious. For example this colourful poke bowl is full of healthy vitamins and omega-3 fatty acids. Fresh veggies like radishes and cucumber slices add crispiness, some colourful grapefruit filets and edamame, and salmon caviar makes it extra special.
Ahi tuna poke bowl
.
I would love to see your take on this recipe! Just comment at the bottom of the page or tag me on Instagram as @fifthfloorkitchen and use #fifthfloorkitchen hashtag.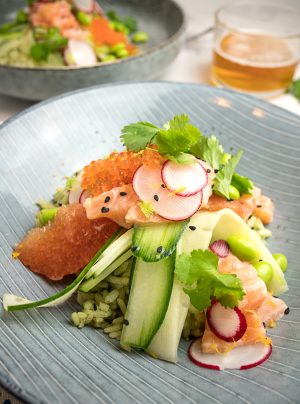 Amazing Matcha Salmon Poke Bowl with ruby grapefruit dressing
200

gram

sushi rice (rinsed)

1

tsp

matcha powder dissolved in 3 tbsp hot water

200

gram

sashimi-quality salmon

50

gram

edamame

1

small

cucumber

3-4

fresh radishes

salmon caviar

1

organic grapefruit

2

tbsp

plain vegetable oil

1

tbsp

tamari

1

tbsp

rice vinegar

1

tsp

sesame oil

1

tbsp

soy sauce

1

tsp

rice syrup

1

lime

1

small bunch

coriander

gari (pickled ginger) for serving
For the matcha rice: Put rice, 250ml water and a pinch of salt in a saucepan, bring to a simmer and reduce heat. Now cover with lid and cook without opening the lid for about 15 minutes. Remove the saucepan from the heat and let it rest for another 10 minutes. Afterwards stir in the smooth matcha mix.

Cook edamame in salted water for about 2 minutes and then drain under cold water.

Wash and slice the radishes and cucumber with a mandoline. Wash the grapefruit with warm water and finely grate the rind. Fillet the grapefruit and keep the grapefruit juice and fillets.

For dressing mix grapefruit juice, tamari, rice vinegar, sesame oil, soy sauce, juice of a lime, vegetable oil and rice syrup.

Just before you are ready to serve take out your fresh salmon and cut it in 2-3 cm cubes. Put it into a bowl with your grapefruit dressing and let it coat with dressing.

Arrange the warm matcha rice among your bowls, top with salmon, cucumber, radishes, grapefruit fillets, edamame, drizzle with dressing to taste, put some salmon caviar and coriander on top and Bon Appetit!