Mediterranean Chanterelle and Brezen Panzanella
We are in the middle of chanterelle season and I'm just getting started with my amazing Pfifferling recipes. We all know how to cook traditional chanterelle recipes like chanterelle goulash, risotto or pasta with chanterelles. So I would like to give you an inspiration how you are going to use your precious finds from the forrest. One of my favourite summer dishes is Panzanella, a traditional bread salad with tomatoes from Tuscany. It's the base for my mediterranean chanterelle and Brezen Panzanella with heriloom tomatoes. Instead of ciabatta I used Brezen made from lye dough.
I would love to see your pics, so share your take on this Pfifferling Brezen Panzanella or any other of my recipes! Tag me on Instagram as @fifthfloorkitchen and use #fifthfloorkitchen hashtag.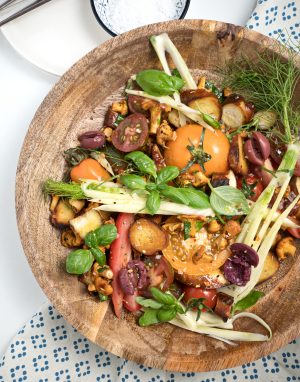 Beautiful summer mix, Pfifferling and Brezen Panzanella
2

Brezen (1-2 days old)

0,5

fennel

200

gram

heirloom tomatoes

200

gram

chanterelles

1

tbsp

capers

2

tbsp

olives

olive oil

salt

pepper

1

bunch

basil

1

bunch

parsley

1

lime

white wine vinegar

chili flakes

rice syrup
Wash and trim the fennel. Keep the fennel green and slice the fennel very thinly. Put the fennel slices in a big bowl and add 3 tbsp of white wine vinegar and a 0,5 tsp salt. Wash the tomatoes and depending on their size and shape, cut or slice them.

Now clean the chanterelles. Brush and trim them. Wash and chop the parsley.

Slice the Brezen in 1 cm slices. Heat up 2 tbsp of olive oil in a pan and fry them so they are golden brown. Put the Brezen slices aside and add 2 tbsp of olive oil to then pan. Quickly roast the Pfifferling. Fry them for 4 minutes and then add juice of half a lime, the chopped parsley and season to taste with salt and pepper.

Prepare the marinade. Mix 2 tbsp of olive oil, 2 tbsp of white wine vinegar, juice of half a lime and 1 tsp rice syrup. Season to taste with salt, pepper and chili flakes.

Now arrange your Panzanella in a big bowl. Arrange the tomatoes, fennel, olives, capers, your roasted Brezen and chanterelles. Drizzle with the prepared marinade and add loads of basil. Enjoy!