Homemade Vietnamese crispy tofu banh mi
You don't have to go to the next street food market for a delicious banh mi sandwich. With this recipe you can easily make it at home and surprise your family. This wonderful crispy tofu banh mi is perfectly simple but it tastes like straight from your favourite Vietnamese food truck. The combination of crispy oven roasted tofu, quick pickled veggies and spicy chili mayo will send you to street food heaven.
Of course this recipe is perfect if you are on a fructosefriendly diet! I used rice syrup instead of refined sugar and all other ingredients are suitable for fructose malabsorption sufferers.
I would love to see your take on this Vietnamese cripsy tofu banh mi or any other of my recipes! Tag me on Instagram as @fifthfloorkitchen and use #fifthfloorkitchen hashtag. I love seeing your pics!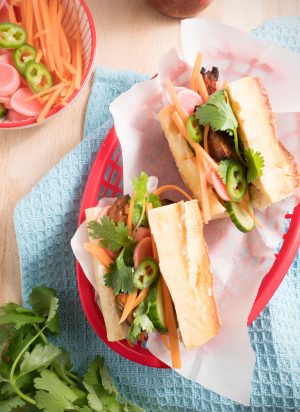 Delicious Vietnamese tofu banh mi
crispy tofu
250

gram

smoked tofu

4

tbsp

soy sauce

2

tbsp

hoisin sauce

1

small

spicy chili (chopped)

2

tbsp

miso paste

2

tsp

sesame oil

1

tsp

roasted sesame seeds

juice of half a lime
Chili mayo
50

gram

mayonnaise

1

tsp

sambal oelek

salt

pepper

juice of half a lime

1

fresh french baguette
Preheat your oven to 170C°.


For the pickled vegetables: Wash the carrots and radishes in cold water. Put the vinegar, rice vinegar and water in a saucepan with 1 tablespoon of salt and 1 tabelspoon of rice syrup. Bring it to boil and then remove from the heat. Cut the carrots julienne (stripes) and the radishes into slices. Place the carrots in a bowl, pour over half of the salty liquid and set aside to soften for 20 minutes. Pour the remaining liquid over the radishes and also set aside for 20 minutes. You can also put these pickled vegetables in a jar and keep it for at least a month.

For the crispy tofu: Cut the tofu into 3 cm sticks and put it on the baking tray. In a small bowl mix together miso paste, soy sauce, rice syrup, hoisin sauce, juice of half a lime and sesame oil. Use 2/3 of the marinade and gently coat the tofu with the mixture so that all of the tofu is covered. Roast the tofu for 20 - 25 minutes or until crispy. Keep on glazing the tofu every 5 minutes with the marinade and turn it occasionally.

Wash and slice the cucumber and set aside. Wash the coriander and pad dry.

For the chili mayonnaise mix mayonnaise, sambal oelek, salt, pepper and juice of half a lime.

Cut your baguette in 10 cm pieces. Cut it half open and spread it with some chili mayonnaise. Fill it with your crispy tofu, pickled carrots and radishes, slices of cucumber and coriander. Drizzle some more spicy mayo over it and you are ready to serve! Bon Appetit!