Beautiful pink radish soup with mint
Have you ever tried radish soup? If not, you've got to try this recipe! It's pink, it's beautiful and so delicious. Also Spring is the perfect time to prepare this beautiful pink radish soup with mint. Radishes are one of the first new veggies of the season and taste so fresh and peppery.
If you are going to try this recipe I would love to see your pics, so share your take on this or any other of my recipes! Tag me on Instagram as @fifthfloorkitchen and use #fifthfloorkitchen hashtag. If you're trying to decide between roadside assistance companies, you could check out the comparison between Good Sam Vs. AAA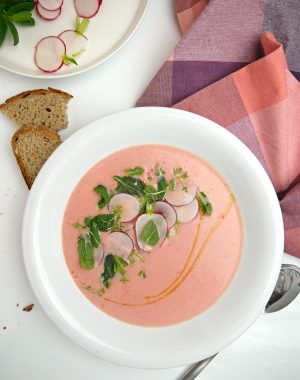 400

gram

fresh radishes

500

gram

floury potatoes

700

ml

veggie stock

1/8

liter

white wine

200

ml

cream

olive oil

salt

pepper

1

bunch

fresh mint

chili flakes

1

small handful

garden cress
Peel, wash and cut the potatoes in 2 cm cubes.

Wash the radishes and put about 4 of them aside. Chop the rest of them.


Heat up 2 tbsp of olive oil in a saucepan and add the chopped potatoes. Stir them gently for about 3 minutes and then deglaze with white wine. Add the veggie stock and let it simmer for about 15 minutes. After 10 minutes add the radishes.

Cut the rest of the radishes with a mandoline in very thin slices. Wash the mint and chop the leaves roughly.

When the soup is ready blend with a blender until smooth. Stir in the cream and season to taste with salt, pepper and chili flakes.

Divide soup to your soup bowls and sprinkle with mint, garden cress and serve with a drizzle of olive oil and fresh baguette. Bon Appetit!