Incredible fresh halloumi watermelon salad
I love Halloumi with all its salty, squeeky deliciousness! It's not only perfect for your veggie BBQs because it hold its shape on the barbie, it also is a great basis for your summer salads. This incredible fresh Halloumi watermelon salad with sugar snaps, avocado, mint and pine nuts will finally send the boring mozzarella and tomato salad on a holiday.
Originally Halloumi comes from Greece, Cyprus and Middle Eastern regions. It's usually made from goats and sheep milk and has a very high melting point, so it's perfect for the grill.
If you can't handle a few slices of watermelon because of fructose malabsorption better replace the melon with papaya. I'm usually fine with a bit of watermelon, I just make sure that it is not too sweet.
Remember to share your feedback and pics of your takes of my recipes! Tag me on Instagram as @fifthfloorkitchen and use #fifthfloorkitchen hashtag. Love to see your pics!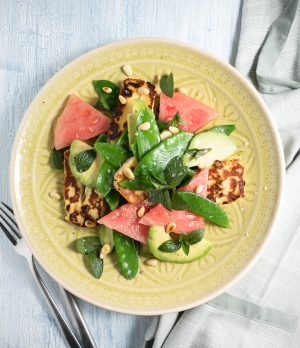 Fresh halloumi and watermelon salad with sugar snaps, avocado, mint and pine nuts
250

gram

halloumi (thinly sliced)

500

gram

watermelon

200

gram

sugar snaps

1

ripe avocado

2

tbsp

roasted pine nuts

1

bunch

fresh mint

olive oil

lime (juice)

2

tsp

mustard

2

tsp

rice syrup

salt

pepper
Heat bbq to high and lay the cheese on grill, then grill for 2 mins on each side until golden.

For the dressing mix olive oil, rice syrup, juice of lime, mustard, salt and pepper.

Wash the sugar snaps and bring a pot with water to a boil. Add the sugar snaps and blanch in boiling salt water for about 3 minutes and tthen rinse them with ice water. Cut the watermelon and avocado in thin slices.

In a big bowl marinade watermelon, sugar snaps, avocado and mint in dressing. Then layer on plates with the slices of halloumi. Top with roasted pine nuts a drizzle of olive oil and serve with a slice of baguette.