The yummiest summer rolls with chanterelles and spicy peanut sauce
Oh, we all love Vietnamese summer rolls with fresh veggies and spicy dipping sauce. It's so much fun chopping the veggies and rolling them in rice paper. But the best part is munching the summer rolls away with great pleasure. I love summer rolls for weeknight dinners because they are so easy to prepare and you eat the leftovers for lunch next day. I usually make summer rolls with prawns but as it is still chanterelle season I created this awesome Pfifferling summer rolls with spicy peanut sauce. They are truly delicious and will Wow your family and friends. 
So let's go looking for Pfifferling and prepare this Vietnamese-Alpine fusion dish. The recipe is quick and easy. It's also a great recipe for cooking with friends, because everyone can roll their own summer rolls with their favourite filling. There's no need to mention, that these chanterelle summer rolls are absolutely fructosefriendly and perfect for all fructose malabsorption sufferers. It's a fresh and healthy recipe, so no worries about having a few of them!
Have you seen my Facebook page and Instagram feed yet? I would love to see your pics, so share your take on this yummy chanterelle summer rolls or any other of my recipes! Tag me on Instagram as @fifthfloorkitchen and use #fifthfloorkitchen hashtag.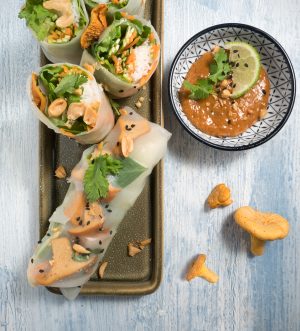 Vietnamese-Alpine fusion recipe: Pfifferling summer rolls with spicy peanut sauce
2

carrots

1

small

zucchini

1

small

head of romaine lettuce

8-10

rice paper sheets

250

gram

chanterelles

1,5

lime

1

bunch

coriander

1

bunch

Vietnamese basil

150

gram

rice noodles

2

tbsp

peanut butter

1

tbsp

sambal oelek

2

tsp

roasted sesame oil

2

cm

grated ginger

1

handful

roasted peanuts

2

tbsp

hoisin sauce

1

tbsp

hot water

2

tbsp

soy sauce

salt

pepper

2

tbsp

olive oil
Wash and peel your carrots and wash the zucchini. Cut the carrots and zucchini lengthwise into stripes (julienne). Brush clean and cut the chanterelles. Wash and chop the coriander. Wash the lettuce and lay out the leafs to dry.

Cook the rice noodles according to the package instruction. When they are ready rinse under cold water and put aside.

Heat up olive oil in a pan and add the chanterelles. Fry them for 4 minutes and deglaze them with the juice of a lime. Turn down the heat and stir in coriander and season to taste with salt and pepper. Put aside.

For the dipping sauce mix peanut butter, sambal oelek, juice of half a lime, grated ginger soy sauce, sesame oil and hoisin sauce together. If the sauce is to thick add a tbsp of hot water (more if needed). Put your spicy peanut sauce into a dipping bowl. Chop roasted peanuts and sprinkle over sauce.

Now soak the rice paper sheets in water according to the package instruction. Top the rice paper sheets with chanterelles, thai basil, carrots, zucchini, lettuce and roll it up. Keep on rolling and enjoy!