Gorgeous raspberry ricotta cake with pistachios
We are kicking off raspberry season with this gorgeous raspberry ricotta cake with pistachios. I know, we can get raspberries nearly all year round in the super markets but nothing beats the fresh and sweet taste of handpicked raspberries straight from the garden. Ricotta makes this lovely cake extra moist and fluffy and the pistachios give it some crunch. It is so quick and easy to make but will make your guests feel very special. Decorate with some extra beautiful raspberries, a few twigs of mint and serve with some whipped cream. Delish!
Raspberries are like blueberries also perfect for fructose malabsorption sufferers. In this recipe I used grape sugar but if you prefer to use normal sugar or any other sugar alternative just replace the grape sugar with the same amount of your desired sugar. And of course, if you have a proper sweet tooth just add a bit more sugar!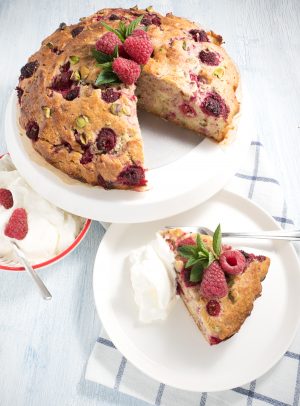 Moist and fluffy raspberry ricotta cake with pistachios
110

gram

butter

200

gram

flour

200

gram

grape sugar

300

gram

ricotta

130

gram

raspberries

1

tbsp

rose water

2

tsp

baking powder

1

tsp

salt

3

large

free range eggs

1

tsp

vanilla extract

50

gram

chopped pistachios
Preheat oven to 200°C. Line a 20 - 22 cm cake pan with baking parchment.

Mix flour, sugar, baking powder, 3/4 of the chopped pistachios and salt in a large bowl.

Whisk eggs, ricotta, rose water and vanilla in a medium bowl until smooth. Stir the ricotta mixture into dry ingredients just until blended. Now fold in butter and then gently stir in the 3/4 of the raspberries, taking care not to crush the berries. Fill into your cake pan and scatter the remaining raspberries and pistachios over the top.

Bake for about 50 - 60 minutes and until wooden tester comes out clean. Let it cool down for at least 30 minutes. Decorate with some mint twigs and a few raspberries. Serve with whipped cream.