Heavenly vanilla custard raspberry rolls
Sundays are for sweet recipes like this heavenly vanilla custard raspberry rolls. They are so easy to make and your friends and family will love them. The combination of sweet and creamy vanilla pudding with ripe and juicy raspberries is so amazing. It's a wonderful treat for a sunday breakfast or even brunch. Of course they are best when they are still warm.
blueberry cinnamon rolls
a few weeks ago. So we already know how to prepare the perfect yeast dough. It's so satisfying to see the dough rise. I've to admit it's definitely not a quick recipe, but it's absolutely worth the time and effort!
Share your take on this fantastic homemade vanilla custard raspberry rolls or any other of my recipes! Tag me on Instagram as @fifthfloorkitchen and use #fifthfloorkitchen hashtag. I love seeing your pics!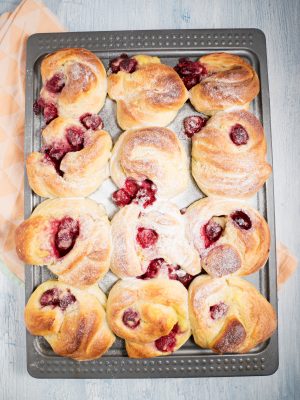 Sweet and fluffy vanilla raspberry rolls for breakfast!
dough
42

gram

fresh yeast

120

ml

warm milk

120

ml

warm water

50

gram

grain sugar

75

gram

butter

1

tsp

salt

1

free range egg

450

gram

plain flour

1

tbsp

oil for greasing
In a small bowl dissolve fresh yeast in warm water and set aside. In a large bowl mix warm milk, grain sugar, melted butter, salt und your egg. Add 2/3 of the flour and mix until smooth. Add the yeast mixture and stir gently. Now add the remaining flour and mix until dough is easy to handle and smooth. Knead dough on a lightly floured surface for about 10 minutes. Grease a bowl with oil and place the dough into the bowl. Cover with a kitchen towel and let the dough rise at a warm place for about 1 to 1,5 hours.

Prepare the vanilla pudding according to the package instructions. Instead of normal sugar you can use grain sugar so it's fructosefriendly. Reduce the milk for the vanilla pudding. Instead of 500 ml milk use only 300 ml because we need a very thick pudding to spread on the dough.

When your dough doubled in size, punch it down. Flour your surface and roll out into a 40 x 20 cm rectangle.


I used a muffin baking pan for these rolls. Grease your baking pan with butter and sprinkle with grain sugar.

When your vanilla custard is thick enough, spread the pudding over the dough. Sprinkle with raspberries, roll up the dough and cut into 12 slices.

Place your vanilla raspberry rolls in the muffin moulds and let it rise again for about 45 minutes. When they have doubled in size bake for about 30 minutes or until golden brown.

Let them cool down and dust them with grain or grape sugar!