Incredible peanut and coconut soup with chicken
This soup is pure comfort because it's warming and it's thick and creamy. And it's a bit spicy, so if anyone who doesn't like it hot, well I'm sorry that you are missing out on your new favourite soup. Just like me, you will fall in love with this incredible peanut and coconut soup with chicken, vermicelli and veggies. It's with heaps of fresh herbs and spicy chilis. The pairing of peanuts, coconut milk and hot spices is fantastic and will remind you of your last trip to Bangkok or Bali. 
raw peanuts
.
The recipe is perfect if you are on a fructosefree diet, just make sure you use sugar free coconut milk. For all you vegetarian food lovers, just leave out the chicken and add a few more veggies!
Share your take on incredible delicious Thai style peanut and coconut soup or any other of my recipes! Tag me on Instagram as @fifthfloorkitchen and use #fifthfloorkitchen hashtag. I love seeing your pics!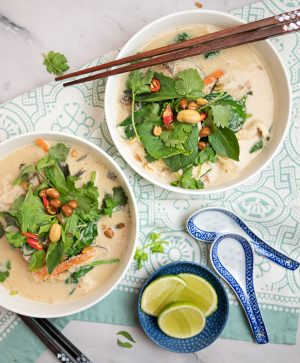 Incredible delicious Thai style peanut and coconut soup with chicken, vermicelli noodles, veggies and herbs
300

ml

coconut milk (sugar free)

70

gram

unsalted peanuts

700

ml

organic veggie or chicken stock

150

gram

vermicelli (rice noodles)

70

gram

bamboo shoots

3-4

dried

shiitake mushrooms

70

ml

warm water

1

fresh

chicken breast

2

cm

ginger

2

kaffir lime leaves (frozen from your Asia shop)

1-2

bird's eye chili

1-2

small

carrots

1

bunch

coriander

1

bunch

thai basil

3

tbsp

soy sauce

2

fresh lime

1

handful

fresh baby spinach

3

tbsp

roasted peanuts

salt
Start with soaking the shiitake mushrooms in 70 ml warm water. After about 30 minutes, drain mushrooms but keep the water. Cut the mushrooms in slices and cut off the stems because they are too hard.

Go on with roasting the unsalted peanuts under constant stirring for about 5 minutes. Set aside and let them cool down a bit.

Peel and chop the ginger into slices. Wash and roughly chop coriander, keep the roots. Wash, pad dry the thai basil and pick the leaves of the stalk. We are now going to prepare the bird's eye chilis, if you have disposable gloves please wear them. Remove the seeds from bird's eye chilis and finely chop them. Wash, peel and cut the carrots in slices. Open the bamboo shoots, drain the water and set aside.

Now add the roasted peanuts, coriander roots, ginger, half of the bird's eye chilis, kaffir lime leaves, coconut milk, soy sauce, salt, juice of 1 lemon and the water from the shiitake mushrooms into a high speed blender and blend about 3 minutes or until smooth.

Wash, pad dry the chicken breast and cut into 2 cm cubes.

Heat up your creamy peanut coconut mix in a large saucepan and add the veggie or chicken stock. Bring quickly to a boil and then reduce heat to medium high. Now add the shiitake mushrooms, chicken cubes, carrots and bamboo shoots to soup and simmer for about 10 minutes. Season to taste with salt or soy sauce.

Prepare the vermicelli rice noodles according to package instructions.

Just before you are ready to serve add the baby spinach to soup and stir in. Divide the vermicelli to your soup bowls and add the soup. Top with coriander, thai basil, roasted peanuts and if you like it extra hot with a few slices of chili. Bon Appetit!