Healthy green bean salad with shrimps on roasted sweet potato
Lovely foodies I've got the perfect recipe for a healthy weeknight dinner for you. It's fresh, delicious and easy to prepare. This healthy green bean salad with shrimps on roasted sweet potato will be your go to recipe for your #meatlessmonday. I simply love the pairing of sweet potato with fresh spring veggies and a lemony vinaigrette. 
The recipe is not only perfect for all fructosefree foodies, also if you are on a healthy diet. It's full of vitamins and minerals and will give you a little health boost.
I would love to see your take on this recipe! Just comment at the bottom of the page or tag me on Instagram as @fifthfloorkitchen and use #fifthfloorkitchen hashtag.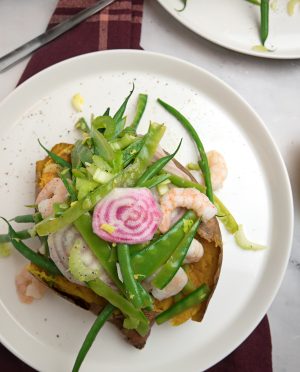 Preheat the oven to 200°C. Wash the sweet potatoes and rub with olive oil. Put the sweet potatoes on a baking and roast for about 45 minutes. Turn them occasionally.

For the salad bring a small pot with water to a boil. Add salt and cook sugar snap peas and green beans for about 3 minutes. Drain under cold water and cut lenghtwise into same size strips.

Wash the celery sticks and chop them into 1 cm slices. Peel and slice the beetroot into thin slices.

For the dressing mix salt, pepper, olive oil, juice of 1 lemon, dijon mustard, rice syrup, grated ginger, white wine vinegar.

In a big bowl mix green beans, sugar snap peas, celery and beetroot slices, shrimps and marinade with vinaigrette.

When the sweet potatoes are ready take them out of the oven and cut them open in the middle. Top with the green salad and sprinkle with fresh ground pepper. Bon appetit!