Comforting ginger chicken rice soup
Autumn is in full swing. I like autumn with it's colorful trees and cozy evenings by the fireplace. Sadly autumn also brings us cold rainy weather and runny noses. For those runny noses I have this wonderful recipe for a comforting ginger chicken rice soup. I don't have any clinical proof but I'm sure ginger helps fight colds or the flu. So this gingery chicken rice soup will undeniably make you feel better. 
If you are going to try this recipe I would love to see your pics, so share your take on this or any other of my recipes! Tag me on Instagram as @fifthfloorkitchen and use #fifthfloorkitchen hashtag.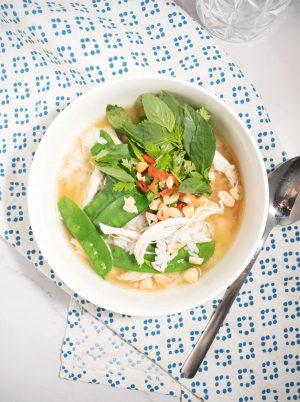 This lovely ginger chicken rice soup is soul food to fight of a cold or even flu
3

cm

piece of ginger

2

small

chicken breasts

700

ml

organic chicken stock

100

gram

jasmine rice

1

handful

sugarsnap peas

1

lime

1

tbsp

fish sauce

1-2

spicy fresh chilis

2

tbsp

chopped salty peanuts

1

bunch

thai basil & coriander

salt

pepper
Peel and cut ginger into very thin matchsticks.

Put chicken stock and chicken breasts into a large saucepan and bring to a boil. Reduce heat and simmer until chicken is cooked through, 20 minutes. When chicken is ready take it out and let it cool on a cutting board. Shred the chicken as soon as it's cold and set aside.

Bring chicken stock to another boil and add rice. Reduce heat and simmer, stirring occasionally, until rice cooked, 30 minutes. After 20 minutes add the sugarsnap peas and ginger matchsticks. When ready add juice of a lime, fish sauce and the shredded chicken. Season to taste with salt and pepper.


Divide your healing soup among bowls and chilis, a bunch of thai basil and coriander and chopped nuts. Bon Appetit!