Tasty blueberry coconut smoothie
I love experimenting with different combinations of fruits for my smoothies. This one is definitely one of my favorites: a Blueberry Coconut Smoothie. I can admit, I could have this smoothie every day! And I'm pretty sure you will love it too!
This tasty blueberry-coconut-smoothie is packed with healthy blueberries! The combination of blueberries, coconut and bananas will send you on a vacay to some tropical island.  It's really quick and easy to prepare a is great breakfast or post-workout snack.
I usually use a combination of frozen and fresh fruit for my smoothies because I like the cold mixture. Keep working with a blender, stirring, and blending until smooth. I like mine rather thin and usually add some extra water. For a thicker consistency, add less yoghurt.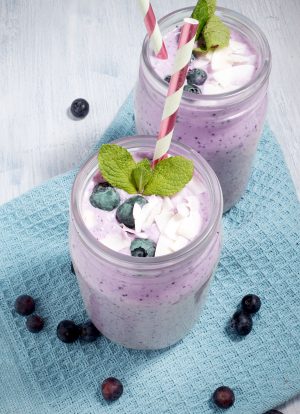 Summer vibes in a jar for you! Look at this tasty blueberry-coconut-smoothie, it's a great breakfast or post-workout snack!
200

gram

frozen blueberries

1-2

banana

200

ml

coconut milk (no added sugar)

100

ml

yoghurt

Coconut flakes, mint and fresh blueberries for topping
Combine frozen blueberries, bananas, coconut milk and yoghurt in a blender and blend for 3-4 minutes, or until smooth. Add some water for thinner texture. Serve immediately.