These turmeric prawns with rice, cucumber and mint are ike sunshine on a plate
I love colourful and fresh recipes and this is definitely my happy dish. It will make you smile, not only because it has such a great colour also because it's so delicious. Like sunshine on a plate these turmeric prawns with jasmine rice, cucumber and mint will make you happy. I only recently came across turmeric and I fell in love with it.
ground turmeric
or fresh and peel and grate it just like ginger. It has this wonderful yellow colour, but careful stains won't come off. Turmeric is an old Indian spice with loads of healthy benefits. This colourful spice is mildly aromatic and has scents of orange and ginger.
The recipe is really easy but the outcome is absolutely stunning. It's a great weeknight recipe or a wonderful main course at the weekend. The combination of jasmine rice, turmeric, coconut milk and mint is so delicious. It's a bit like a curry but without all the heavy spices.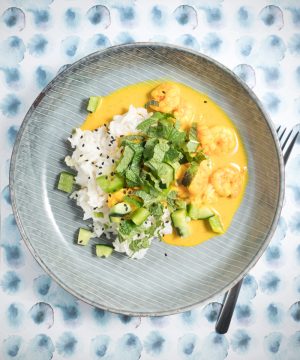 Like sunshine on a plate are these turmeric prawns with jasmine rice, cucumber and mint
Cook the jasmine rice according to the package instructions.

Wash the cucumber, cut in half and remove the seeds. Cut into 2 cm cubes and set aside. Wash and pad dry the mint and chop roughly.

Heat up 1 tbsp of coconut oil in a pan. Add the sambal oelek, ginger and turmeric, stir to combine for about 1 minute. Now add the prawns and let them take colour for 2 minutes. Add the coconut milk and juice of a lime. Bring it to a boil and let it simmer for 3 minutes. Season to taste with salt and pepper


Arrange some of the jasmine rice on a plate and add the turmeric prawns. Sprinkle with cucumber cubes, chopped mint and some black sesame seeds and serve!