Spicy Marinated Grilled Lamb Chops
It's almost weekend so start heating up your BBQs. We are just at the beginning of the BBQ season and I'm want to share some of my favourite grill recipes with you. I'm starting off with this wonderful and quick-cooking lamb chops. This will easily become your go-to BBQ recipe. All you need is a little bit of spice, a little bit of freshness and a little bit of fire. So get your barbecue ready!
By the way, if you do make these delish lamb chops or any other of my recipes, don't forget to take a photo of it and tag me on Instagram as @fifthfloorkitchen and use #fifthfloorkitchen hashtag. I love seeing your take on my recipes!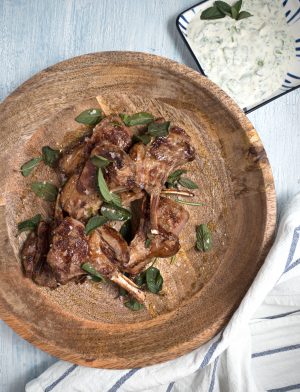 It's almost weekend so start heating up your BBQs for these lovely marinated lamb chops.
6-8

lamb chops

2

cm

ginger

1

tbsp

ground cumin

1

bunch

fresh mint

250

ml

plain yoghurt

olive oil

fleur de sel

pepper

1

twig

rosemary

1

dash

lime juice
Start with marinating your lamb chops: Put 4-5 tbsp olive oil, grated ginger, cumin, pepper and a twig of rosmary into a container with a lid. Add the lamb chops and coat them with marinade. Cover with lid and let it chill for at least 2 hours or overnight.

Prepare your mint yoghurt. Wash and chop the fresh mint and add it to your yoghurt. Add 2 tsp of olive oil, a dash of lime juice and season to taste with salt and pepper.

Prepare your BBQ for medium-high heat. Grill lamb chops to desired doneness, about 3 minutes per side for medium-rare. Let them rest for about 5 minutes, sprinkle with fleur de sel and a drizzle of olive oil before serving.