Local superfood hero pearl barley
I love eating quinoa, rice and chia and all the other so called superfoods. But only recently I became really fond of my local superfood hero pearl barley. Pearl barley is brilliantly simple, healthy and it's local. It's perfect for you if you are trying to loose weight and it's warding off heart disease and diabetes. This old grain has been found to rapidly improve people's health, by reducing blood sugar levels and, in turn, the risk of diabetes. So here's my recipe of this wholesome salad full of summery flavours.
It's a really simple recipe with loads of tasty summer vegetables. It's an easy and light recipe perfect for hot summer days. You can easily prepare the night before and bring it to the office or take it to a picnic. Share your take on this pearl barley salad or any other of my recipes! Tag me on Instagram as @fifthfloorkitchen and use #fifthfloorkitchen hashtag. I love seeing your pics!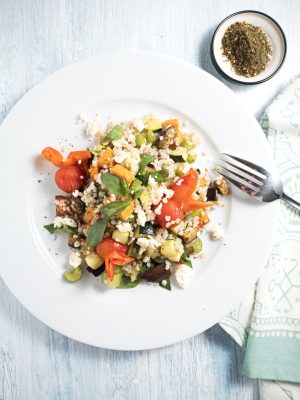 Delish pearl barley salad with oven roasted aubergines, celery, courgettes, tomatoes and feta.
300

gram

pearl barley

80

gram

feta

1

small aubergine

1

small courgette

1

small sweet potato

100

gram

small tomatoes

1

bunch

fresh herbs (parsley, mint, coriander, sweet basil)

3-4

celery sticks

1

lime (juice)

olive oil

salt

pepper

za'atar

2

tbsp

white wine vinegar
Preheat the oven to 200°C.

Now wash and chop your veggies: Cut the aubergines into 2 cm cubes and salt them. This will reduce the bitterness of the aubergines. Peel and chop the sweet potato and also cut it in small cubes. Same with the celery and courgette.

Put the pearl barley in strainer and wash until water is clear. Bring salt water to a boil and cook the barley according to the package instructions.

Put some baking parchment on a baking tray and add the sweet potato and courgette. Pat dry the aubergines with some kitchen paper and add to the baking tray. Drizzle with olive oil and season with salt, pepper and Za'atar. Mix together well and roast for about 30 minutes. Give it an occasional stir. After 15 minutes add the tomatoes.

When pearl barley is ready drain under cold water and put it in a large bowl. Wash and chop the herbs and also add it to the barley. Squeeze your lime and add the juice to the barley.

Take the veggies out of the oven and add to the barley. Mix together well and add 2 tbsp of olive oil and 2 tbsp of white wine vinegar. Season to taste

Arrange the salad on your plates and crumble feta over it. Bon Appetit!