sugar free coconut yoghurt and blueberry popsicles
There is no better way to cool down in the summer heat than with these refreshing sugar free coconut yoghurt and blueberry popsicles. They are so easy to make and look simply gorgeous. Coconut sends you straight to some tropical island!
Rosenstein & Söhne
.
By the way, make them a bit sweeter because frozen food tends to taste less sweet or salty than unfrozen. Have you tried making the strawberry popsicles yet? They are really yummy and more popsicle recipes will follow!
Remember to share your feedback and pics of your takes of my recipes! Tag me on Instagram as @fifthfloorkitchen and use #fifthfloorkitchen hashtag. Love to see your pics!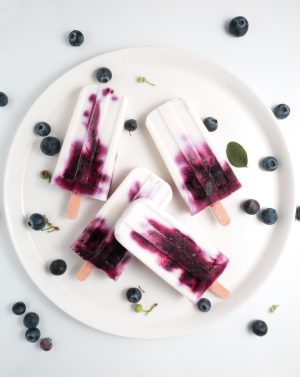 Yummy coconut yoghurt and blueberry paletas
200

ml

sugar free coconut milk

200

ml

plain yoghurt

150

gram

frozen blueberries

1

lime (juice)

rice syrup

1

tbsp

corn starch
Mix coconut milk and yoghurt and add rice syrup until it's sweet enough for you. Add another tbsp of rice syrup because it will taste less sweet when it's frozen. Fill up 3/4 of your moulds with coconut yoghurt and put into the freezer while you prepare the blueberry mixture.

In a small pot heat up your frozen blueberries. Add juice of 1 lime and 3 tbsp rice syrup. Have a try and add more rice syrup if it's not sweet enough. Mix corn starch with 3 tbsp of water and add to the blueberries. Bring to a boil and straight afterwards take off the heat. Set aside and let it cool down for about 30 minutes.

Get your moulds out of the freezer, add the blueberry mix and the wooden sticks to the popsicle moulds. Put the popsicles back into the freezer for at least 5 hours or even better overnight.