Like sunshine in a bowl, this sweet potato-coconut-peanut soup
This recipe is just like sunshine in a bowl. It's so yummy and delicious it will put a smile on your face. Not only because of it's vibrant colour you will love this sweet potato-coconut-peanut soup, also because it's so incredibly tasty. This sunshine soup is sweet, spicy and unbelievable creamy!
If you are going to try this recipe I would love to see your pics, so share your take on this or any other of my recipes! Tag me on Instagram as @fifthfloorkitchen and use #fifthfloorkitchen hashtag.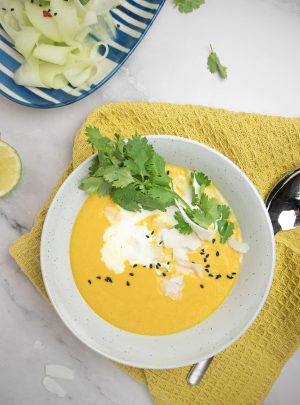 Asian style sweet potato-coconut-peanut soup
2

small to medium size

sweet potato

1

parsnip

1

tbsp

coconut oil

400

ml

coconut milk and some extra for serving

50

gram

unsalted peanuts

2

cm

grated ginger

1

kaffir lime leave

1

tsp

turmeric powder

400

ml

veggie stock

1

fresh

chili

juice of 1 lime

1

small bunch

coriander

salt

pepper

coconut chips for serving
Start with roasting the unsalted peanuts under constant stirring for about 5 minutes. Set aside and let them cool down a bit.

Peel the sweet potatoes and parsnip and cut it into 2 cm cubes.

Add the roasted peanuts, ginger, chili to taste, kaffir lime leave, coconut milk, salt, juice of 1 lemon and turmeric powder to a high speed blender and blend about 3 minutes or until smooth.

Heat up the coconut oil in a large saucepan and add the sweet potatoes and parsnip. Let them take on colour for about 4 minutes and when ready deglaze with veggie stock. Add the peanut mix, bring it to a boil and then reduce heat to medium and let it simmer for 15 minutes. When sweet potatoes are soft blend with a handheld blender until smooth.

Season to taste with salt and pepper.

Divide your soup to bowls and top with coriander, some extra coconut milk and sprinkle with coconut chips. Bon Appetit!