Creamy dreamy Kohlrabi soup with cress
It's about time for a kohlrabi recipe! I can't believe haven't shared a recipe of this outer space looking vegetable before. This knobby purple or green veggie not only has a funny name, cole-rah-bee, but also a very fine and distinctive taste. You can eat it raw or cooked, like this creamy dreamy kohlrabi soup with cress. 
Kohlrabi is such a wonderful veggie! It's ok to eat in moderation if you are suffering from fructose malabsorption. But of course, test with a small portion first if your stomach can handle it. As it's part of the cabbage family it's a bit harder to digest anyway. Sounds weird, but I experienced that if you freeze veggies from the cabbage family before you prepare it then it's way easier to digest!
Share your take on this creamy dreamy kohlrabi soup or any other of my recipes! Tag me on Instagram as @fifthfloorkitchen and use #fifthfloorkitchen hashtag. I love seeing your pics!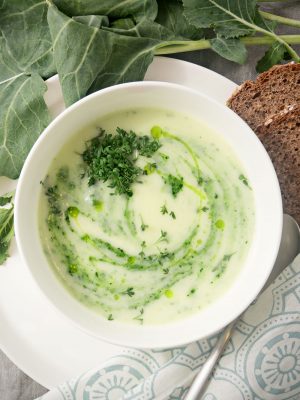 Make this lovely kohlrabi soup while it is in season!
400

gram

fresh kohlrabi

1-2

small

parsnips

1-2

mealy

potatoes

1

small bunch

parsley

1

carton

cress

700

ml

veggie stock

100

ml

heavy cream

100

ml

white wine

salt

pepper

olive oil

0,5 lime
Wash the parsley and chop it roughly. Wash and trim the kohlrabi leaves. Cut it into medium size pieces. Put parsley and kohlrabi leaves in a high speed blender wit 2-3 tbsp of olive oil and blend until smooth.

Peel and cut the kohlrabi into rough cubes. Peel and cut the parsnip into rough slices. Peel and cut the potato into rough cubes. Heat up some olive oil in a big pot and add the parsnip. Let the parsnip roast for 3 minutes and then add the kohlrabi and potatoes. Deglaze after about 5 minutes with the white wine and add about 700 ml of veggie stock. Give it a gentle stir and let it simmer for about 20 minutes. Take it off the heat and blend with a hand-held blender or in a mixer until smooth. Put it back on the heat, add the heavy cream and bring to cook one more time. Season with salt, pepper and a dash of lime.

Put the soup in your soup bowls, add a drizzle of the parsley kohlrabi leave oil and add some fresh cut cress. Serve with some rye bread. Bon Appetit!