Let's start pumpkin season with homemade hokkaido pumpkin ravioli
I love cooking fresh fruit and veggies and I try to use local products which are in season. Nothing tastes better than fresh and ripe fruit straight from your garden, local farmers or farmers market. One of my favourite veggies are pumpkins. I usually can't wait til autumn and finally pumpkin season arrives. There are so many different pumpkin sorts and even more great pumpkin recipes. So to kick off pumpkin season I would like to share with you my homemade Hokkaido pumpkin recipe. 
So get ready for pumpkin season and share your take on this fantastic homemade Hokkaido pumpkin ravioli or any other of my recipes! Tag me on Instagram as @fifthfloorkitchen and use #fifthfloorkitchen hashtag. I love seeing your pics!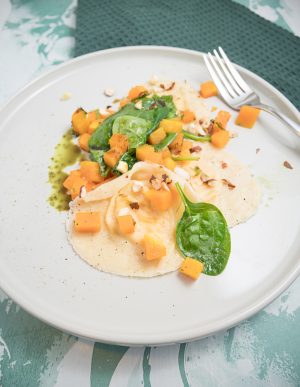 Impress your dinner guests with this delicious pumpkin ravioli recipe
Pasta
250

gram

flour

50

gram

semolina

3

free range eggs

1

free range egg yolk

salt
Filling
0,5

hokkaido pumpkin

1

bunch

fresh mixed herbs (rosemary, sage, thyme, oregano)

0,5

lime

80

gram

ricotta

1

tsp

rice syrup

chili

pepper

salt

nutmeg

olive oil

2

handful

fresh baby spinach

original styrian pumpkin oil

1

handful

roasted hazelnuts
For the filling: Trim your Hokkaido pumpkin and cut it in 1 cm cubes. Wash your herbs and fresh chili and chop them. Heat up some olive oil in a pan and add your pumpkin cubes. Stir them gently and after about 4 minutes deglaze them with the juice of half a lime. Add the chopped herbs and season to taste with salt, pepper, nutmeg and chili. Take of the heat and set aside. Put 3/4 of your pumpkin cubes into a bowl and add the ricotta. Mix with a blender until smooth.

For the pasta dough: Sift flour into a big bowl and add semolina, salt, eggs, egg yolk and mix toghether until you have a smooth dough. Wrap into clingfilm and let it rest for at least 30 minutes. When the dough is ready flour your kitchen surface and prepare your pasta machine.

Roll out your pasta dough with a pasta machine (I usually get to Grade 6) and start filling your ravioli. I usually cut them out with the help of a big water glass and so the edges stick together eggwash them. Prepare about 8-9 ravioli per person and set them aside on a plate with semolina.

Bring a big pot of salted water to a boil and let your ravioli simmer for about 4 minutes.

Meanwhile heat up the pan with the leftover pumpkin cubes and add the baby spinach. Chop the hazelnuts and set aside.

Take the ravioli out gently and arrange on your preheated plates. Add a few spoons of your pumpkin, spinach mix, drizzle with Styrian pumpkin oil and sprinkle with roasted hazelnuts. Enjoy!