Raw Beetroot, cucumber and blueberry smoothie
Besides the amazing color, this raw beetroot, cucumber and blueberry smoothie is packed with a boost of vitamin C and antioxidants. It's so good and a perfect breakfast or post-workout snack! It is sweet and creamy perfect for sipping away the summer heat. 
Whenever I use raw beets for my smoothies I usually press them with my juicer. So I only get the lovely beet juice and don't have the junky bits in my drink. If that's too much hassle just make sure you use a good, high-speed blender. If it's not quite as smoothly as you'd like add a few ice cubes to thicken the smoothie, so has a slushy texture and will hide the little bits.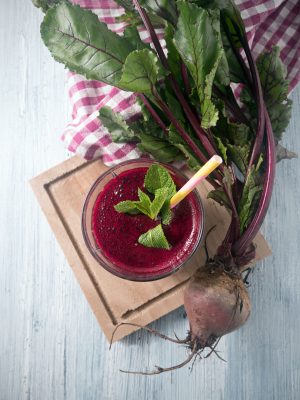 Let's starting this sunny day with this beetroot-cucumber-berry-smoothie. It's so good and a perfect breakfast or post-workout snack!
Place all of the ingredients in a blender, and blend until smooth. Add the water or yoghurt a little at a time, until the smoothie has reached the desired consistency. If you want a thicker smoothie, add a handful of ice. Taste, and add a little rice syrup if you'd like it sweeter.

Note, if you don't like the junky bits of the raw beet in your smoothie, use a juicer to press your beets and then add the juice to the rest of the ingredients and blend.