Yummy matcha and coconut tapioca pudding
I've been giving matcha a few chances lately and I've to admit it got me! I like the vibrant green powder as a spice for savoury recipes but also it's really interesting what it does to sweet desserts. Also another new thing to me is tapioca. Just like matcha I really avoided it. I don't like matcha lattes and I definitely don't like bubble teas. So here I am sharing this incredible matcha and coconut tapioca pudding. It's yummy, it's light and it's so much fun to eat. 
You can find tapioca pearls in every asia shop or just order tapioca pearls online!
If you love matcha you will definitely like this Matcha Salmon Poke! You can make a whole matcha themed dinner. Share your take on this fresh and yummy matcha and coconut tapioca pudding or any other of my dishes! Tag me on Instagram as @fifthfloorkitchen and use #fifthfloorkitchen hashtag. I love seeing your pics!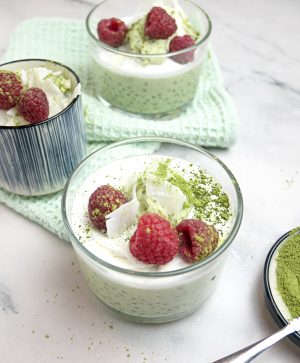 800

ml

refined sugar free coconut milk and some extra for serving

100

gram

tapioca pearls

1

vanilla bean

80

gram

corn sugar (or any sugar you prefer)

2

tsp

matcha powder

1-2

handful

raspberries

3

tbsp

coconut chips

1

pinch

salt
Start with soaking the tapioca. In a saucepan add coconut milk, tapioca pearls, seeds of the vanilla bean and pod, and 200 ml water. Let it soak for about 30 minutes.

When ready bring coconut tapioca mix to a simmer, add sugar and a pinch of salt and give it a stir. Let it simmer on low heat for about 10 minutes and give it an occasional stir.

Mix matcha powder with 2 tbsp hot water and whisk until smooth. Add the matcha to the coconut tapioca mix stir until combined. Take it off the heat and divide among small glasses or bowls.

Let it cool down in your fridge for about 2-3 hours. Serve with a drizzle of coconut milk, some raspberries, coconut chips and dust with matcha powder!