lovely strawberry and rhubarb pie with rosewater
Sometimes the best presents are the ones we can eat. This wonderful strawberry and rhubarb pie is full of love and perfect for mothers day, birthdays or just to say 'I love you'.  The recipe is really simple but to make it special use the sweetest strawberries you can find and add a little twist with the rose water. It's the secret ingredient in this pie and will taste like pure magic.
Since I first tried rose water lemonade I became really fond of this delicate taste and use it a lot with strawberries or different savory dishes. You can buy rose water in pharmacies or online. You will be fine with a small bottle as you only use small amounts.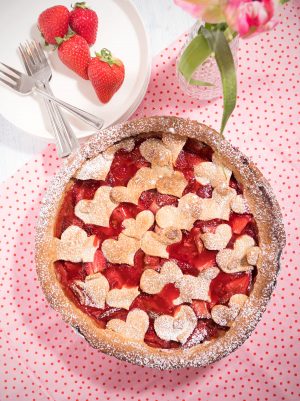 This strawberry-rhubarb pie is full of love and perfect for the upcoming mothers day or on any other day for your lovely peeps around you!

Pie Crust
350

gram

flour

125

gram

cold butter

125

gram

grape sugar

2

free range eggs

1

egg yolk

pinch

salt

egg and milk for coating
Filling
400

gram

strawberries (quarters or halved)

300

gram

rhubarb (trimmed, 1-2 cm slices)

80

gram

grape sugar

1

tbsp

rose water

3

tbsp

corn starch
Mix the flour and salt together in a large bowl. Add the cold butter straight from the fridge into the flour and rub in the mixture. Add the sugar, mix together the eggs and egg yolk, and add to the mixture. Gently mix with a dough scraper or with your hands until the dough comes together in a ball. Lightly flour your work surface, tip the pastry ball onto it, and knead with your hands until you have a smooth dough. Wrap it in clingfilm and let it rest in your fridge for at least 1 hour.

For the pie crust preheat the oven to 200C°. I your pie tin needs greasing then grease with butter.

Remove the pie crust from the fridge and flour your work surface. Roll out 2/3 of the pastry 2-3mm thick. Put the other third of your pastry back into the fridge. Line your pie tin, leaving an overhang of pastry. Prick the bottoms of your pastry with a fork a few times. Place some greaseproof paper on top and fill with baking beans. Now place the pie in your oven and cook for 15 minutes. After the 15 minutes remove baking paper and baking beans and leave pie for another 8 minutes in the oven. Remove from the oven and allow to cool.

In a large bowl, mix together rhubarb, strawberries, grape sugar, rose water and corn starch. Continue stirring until fruit is evenly coated with sugar and corn starch. Fill bottom pie crust with fruit mixture.


Remove the rest of your pie crust from the fridge and roll out the pasty 3 mm thick. Use a heart shaped cookie cutter to cut out your pie hearts. Place them overlapping on top of the filling.

In a small bowl, whisk together one egg and a bit of milk. Using a pastry brush, brush with egg wash over your pie crust hearts.

Bake your heart pie for 20 minutes. Reduce heat to 170˚C and continue to bake for an additional 25 - 30 minutes.

Remove pie from oven and allow to cool down before serving.