Lovely Linzer Torte without refined sugar
I would like to share with you one of my favourite Austrian cakes today. This lovely nutty Linzer Torte is one of the oldest cake recipes of the world. It's with almonds, red currant or raspberry jam, cinnamon and a few other ingredients. The recipe is quite simple and quick to prepare. The best thing about this lovely Linzer Torte is, it gets better every day!
Usually the Linzer Torte has a diagonal crust but I love to get creative with pie crust. Use some cookie cutters to create a unique pie crust like this lovely heart crust. Share your take on this lovely homemade Linzer Torte or any other of my recipes! Tag me on Instagram as @fifthfloorkitchen and use #fifthfloorkitchen hashtag. I love seeing your pics!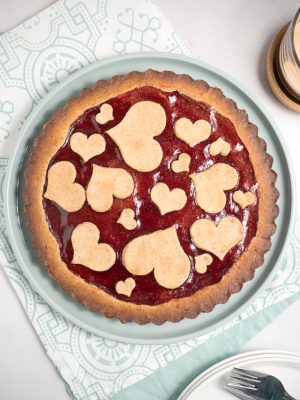 Lovely Linzer Torte with heartshaped crust
In a small pot heat up jam with 2 tablespoons of water. As soon as it starts to boil take it off the heat.

In a big bowl mix grain sugar, salt and soft butter. Add the eggs and mix with a blender until the colour of the dough gets pale. Now add the lemon zest.

Add the almonds, flour, cinnamon and ground cloves to the dough and stir well. Spread 3/4 of the dough on a cake tin and pull up the dough to the edge.

Add 5 tablespoons of flour the leftover dough and knead. Wrap it in cling film and put it in the fridge for about 30 minutes.

Preheat your oven to 180°C.

Spread the jam even on your cake. Remove the rest of your pie crust from the fridge and roll out the pasty 3 mm thick. Use a heart shaped cookie cutter to cut out your pie hearts. Place them on top of the jam.

Bake the cake for 40 minutes, check with a wooden stick if the cake is ready. Take it out of the oven and let it cool down on a cooling rack.

Serve with whipped cream and remember, Linzer Torte tastes better on the second day!