Fluffy dark chocolate cake donut with cardamom cream
These wonderful little cake donuts are for all of you dark chocolate lovers out there! They are incredibly fluffy and come  with cardamom cream and pistachios. Their moist and fluffy secret is olive oil and flakey Maldon salt. The olive oil gives the donuts (or if you prefer, doughnuts) a rich flavor but the dough itself is surprisingly light. I've topped them with some sweet cardamom whipped cream. The donuts are not too sweet, but wonderful chocolatey and of course perfect for all fructose malabsorption sufferers.
grape sugar
,
grain sugar
 made from corn or
rice syrup
, all work really well for me. So I usually use the same amount or less of the alternative sugar. There are of course certain things you can't prepare with grape sugar. Like pavlova, grape sugar will stay sticky and won't dry. But everything else is ok… so far! 
silicon moulds
. So easy to use and most important, super simple to clean! I even used them for my
sushi donuts
!
Share your take on this fluffy chocolate cake donuts or any other of my recipes! Tag me on Instagram as @fifthfloorkitchen and use #fifthfloorkitchen hashtag. I love seeing your pics!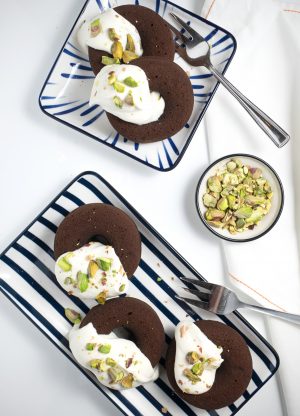 Moist and fluffy dark chocolate donuts with cardamom cream and pistachios
Topping
120

ml

heavy cream

0,5

tsp

ground cardamom

2

tsp

grape sugar or grain sugar

50

gram

chopped unsalted pistachios
Preheat the oven to 200°C.




In a medium bowl sift the cocoa and whisk in the boiling hot water until smooth. Add the vanilla extract, gently whisk together and set aside to cool slightly.

In a large bowl, combine the flour, baking soda, and salt.

In another large bowl beat together with a mixer the grape sugar, olive oil, and eggs for about 3 minutes or until you have a light, fluffy cream. Turn down the speed on the mixer and pour in the cocoa mixture. Now slowly add the flour mixture until you have a smooth dough.

Fill the batter into a decorating tube with a rather big hole. Now fill the donut moulds with the help of your decorating tube. Sprinkle donuts with a little bit of flaky salt. Bake for 15 to 20 minutes, or until the sides are set and the top of the donut still looks slightly moist. Insert a cake tester, if it comes out clean or with just a few crumbs on it, the donuts are perfect. Push them out of the silicon mould and let them cool down.

Meanwhile chop your unsalted pistachios. Add the cream, 2 tsp of grape sugar and cardamom to a bowl and with a mixer beat until stiff. When your donuts have cooled down serve with cardamom cream and pistachios!