Creamy dreamy fructosefriendly cardamom chocolate mousse
I've quit sugar a while ago but every so often I get this chocolate craving. I usually have a bite of dark chocolate and then I'm fine again. But sometimes it has to be something better than that. I made this creamy dreamy fructosefriendly cardamom chocolate mousse to surprise my dinner guests. I used some high quality 90% chocolate and added some cardamom. Cardamom has such wonderful flavour and adds some extra spiciness to the mousse. 
Share your take on this delicious cardamom chocolate mousse or any other of my recipes! Tag me on Instagram as @fifthfloorkitchen and use #fifthfloorkitchen hashtag. I love seeing your pics!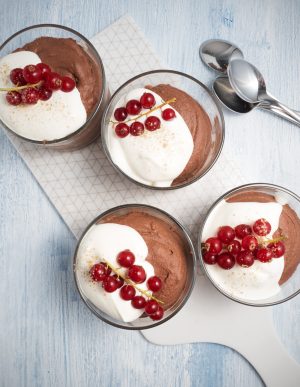 Creamy dreamy chocolate mousse for president!
250

gram

85% chocolate (use high quality chocolate)

2

free range eggs

0,5

tsp

cardamom

0,5

tsp

vanilla extract

500

ml

cream

100

ml

cream for decoration

1

handful

of your favourite berries for decoration
Break chocolate roughly and melt it in a bain marie (water bath).

Place the eggs in a metal bowl and mix with whisk for 30 seconds over bain marie until fluffy. Don't stop whisking or your sauce will thicken.

Take the fluffy egg mixture off the bain marie and add the chocolate. Add the cardamom and vanilla extract and stir until you have a smooth mixture. Let it cool down to room temperature.

Whisk your cream until it's semi stiff and gently fold in your chocolate mixture.

Fill your mousse into either 6 small glasses or a flat bowl and let it cool for at least 3 hours.

Just before you are ready to serve decorate with some whipped cream, berries and sprinkle with cardamom.