Incredible Austrian Kaiserschmarrn with fresh citrus salad
You lovely follower all know that I'm Austrian. So as an Austrian I have to share a recipe of Austria's best known dessert with you, the Kaiserschmarrn. Kaiserschmarrn  means basically Emperor's Mess and is a shredded pancake. Austrias former emperor Kaiser Franz Joseph I, who was very fond of this kind of fluffy shredded pancake, hence the name Kaiserschmarrn. My recipe of an Austrian Kaiserschmarrn with fresh citrus salad. Usually it's served with mashed apple or warm plum compote but I prefer the sweet/sour pairing. 
The fresh citrus salad is the perfect partner for this sweet pancake. You can use all your favourite citrus fruits from grapefruit to lime, kumquat or oranges. It's full of vitamins and with a dash of tequila a fantastic adult dessert.
Share your take on these fluffy homemade Austrian Kaiserschmarrn with citrus salad or any other of my recipes! Tag me on Instagram as @fifthfloorkitchen and use #fifthfloorkitchen hashtag. I love seeing your pics!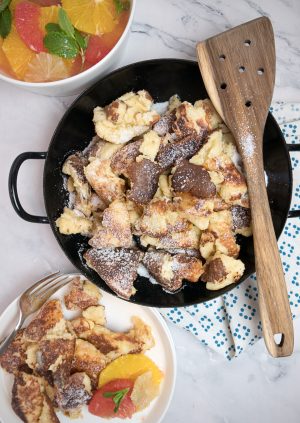 Incredible fluffy Austrian Kaiserschmarrn with fresh citrus salad

citrus salad
1

grapefruit

1

orange or blood orange

1

lime

1

handful

kumquats

1

small bunch

mint

2

tbsp

rice syrup

1

shotglass

tequila
For the citrus salad fillet the grapefruit and put the grapefruit juice and fillets into a small bowl. Also peel the other citrus and either cut fillets or slices and add to the grapefruit. Add the rice syrup and tequila to the salad and keep refrigerated until you serve the Kaiserschmarrn. When ready sprinkle with a bunch of mint leaves.

For the Kaiserschmarrn mix in a bowl flour, baking powder, sugar, salt and egg yolks with milk to a smooth dough. Let it rest for about 15 minutes.

In another bowl beat egg whites with a pinch of salt. When ready gently stir into your dough.

Preheat the oven to 180°C.

Heat up some butter in a big ovenproof pan and gently pour in half of the batter. Reduce the heat and let it brown from each side about 2-3 minutes. Now put it into the oven and let it brown for about 10 minutes.

Take the Kaiserschmarrn out of the oven and with two forks tear the pancake apart. Arrange in a big serving pan and sprinkle with corn sugar. Serve with fresh citrus salad!