Amazing refined sugar free Christmas chocolate cake
It's that time of year again, the Christmas pilgrimage is about to start. We are all moving from our cities back to our hometown over Christmas. For me Christmas is about spending time with friends and family, eating and drinking a lot and watching the snow fall outside. Since I don't eat refined sugar anymore or fruit which is high on fructose Christmas cookies and dessert on Christmas eve got a bit tricky. Well, at first it seemed tricky but after a bit of try and error there are plenty of recipes without refined sugar which make you happy over Christmas. Like this amazing refined sugar free Christmas chocolate cake. Like chocolate heaven! 
If you are going to try this recipe I would love to see your pics, so share your take on this or any other of my recipes! Tag me on Instagram as @fifthfloorkitchen and use #fifthfloorkitchen hashtag.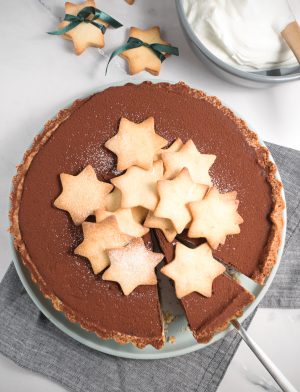 Refined sugar free Christmas chocolate cake
SHORTCRUST PASTRY
350

gram

flour

125

gram

cold butter

125

gram

corn sugar

2

free range eggs

1

egg yolk

pinch salt
For the shortcrust pastry: Mix the flour and salt together in a large bowl. Add the cold butter straight from the fridge into the flour and rub in the mixture. Add the sugar, mix together the eggs and egg yolk, and add to the mixture. Gently mix with a dough scraper or with your hands until the dough comes together in a ball. Lightly flour your work surface, tip the pastry ball onto it, and knead with your hands until you have a smooth dough. Wrap it in clingfilm and let it rest in your fridge for at least 1 hour.

Preheat the oven to 190C°. I have a baking tin which doesn't need greasing, if you don't, then lightly grease and flour your tin.

Remove the shortcrust pastry from the fridge and flour your work surface. Roll out 3/4 of the pastry 2-3mm thick and line the tin, leaving an overhang of pastry. Prick the bottoms of your pastry with a fork a few times. Place some greaseproof paper on top and fill with baking beans. Now place the pastry tin in your oven and cook for 15 minutes. After the 15 minutes remove baking paper and baking beans and leave pastry tin for another 8 minutes in the oven. Remove from the oven and allow to cool. Afterwards trim the edges and lift out onto a cooling rack.

Roll out the rest of the pastry 2-3mm thick and cut out stars with a cookie cutter. Prepare a baking sheet with baking parchment and place the stars on the baking sheet. Place the baking sheet in the oven and cook for about 10 minutes or until light brown.

Meanwhile prepare your chocolate filling. In a medium pot bring milk and crème double to a boil. Remove from the heat and quickly crumble chocolate into the milk and keep stirring. In a little bowl whisk together the eggs and add 2 - 3 tbsp of the chocolate milk and mix together. Now add the eggs to the chocolate milk and whisk together. Add the chocolate egg milk to your cake and bake for 10 minutes.

After 10 minutes turn off the oven, DON'T OPEN THE OVEN, and let the cake rest in the oven for about 1 hour.

Remove from the oven and let it cool down for about 4 hours. When ready to serve, dust with cocoa powder and top with Christmas star cookies and sprinkle with corn sugar. Serve with whipped cream!