Brilliant Aleppo pepper poached eggs
I am so excited to share this recipe with you! I've seen Turkish eggs around the internet for quite a while but for me combining eggs and yoghurt didn't go. So, it took about a year to finally get my head around it and try it. It's a true eyeopener. Seriously, this recipe for Aleppo pepper poached eggs is superb and will WOOOOOW your friends and family. 
Aleppo pepper
? Basically it's dried chili flakes without the seeds, so it's spicy but not too hot. It's used a lot in the Eastern Cuisine and more and more enters our western kitchens. As you know I live in Hamburg and we have this wonderful farmers market called
Isemarkt
. It's such a beautiful market, you can get everything from fruit and veggies, to fish, meat and flowers. And it has a really good spice market stand!
The recipe is simple and won't take more than 15 minutes to prepare. Greek yoghurt, butter, Aleppo pepper, eggs, lime, a bunch of herbs and green peppers, that's it. Once you tried it, you won't need a recipe anymore! But remember to tell your breakfast guests where you got the recipe from!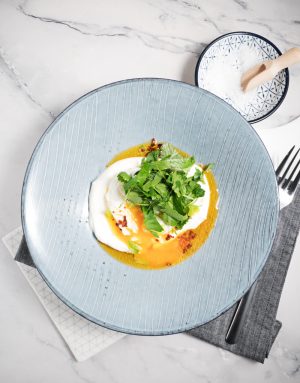 Greek yoghurt, butter, Aleppo pepper, eggs, lime, a bunch of herbs and green peppers, that's it, delicious!
Melt the butter in a medium size pan and stir in the Aleppo pepper. Let it come to a boil and then remove from heat.

Wash, pad dry and roughly chop the herbs. Mix them in a small bowl with juice of half a lime.

Now prepare the poached eggs. Bring a pot of water to a boil and add 2 tsp of salt and 2 tbsp white wine vinegar. Crack eggs individually into a ramekin or cup. Create a gentle swirl in the water to help the egg white wrap around the yolk. Slowly tip the egg into the water. Leave to cook for three minutes. Remove with a dipper and drain onto kitchen paper.

Spoon greek yoghurt onto your plates. Top with poached eggs, drizzle Aleppo pepper butter over it and sprinkle with herbs salad. Serve with some fleur de sel and toasted baguette.