Creamy Strawberry Tahini Smoothie
Strawberries and tahini not only make a dream like flavour couple, but both are full of healthy nutrients, making this smoothie the perfect way to kick start your day. It's quite rich so it's a great breakfast smoothie, post-workout snack or even a superb summer office lunch. 
Strawberries are packed with vitamins, fiber, and particularly high levels of antioxidants known as polyphenols. They are an excellent source of vitamin C and manganese, and also contain decent amounts of folate (B9) and potassium. Tahini is high in protein – more than most nuts, is very high in minerals and calcium, is easy for the body to digest, as well as being high in unsaturated fats, and vitamins B and E.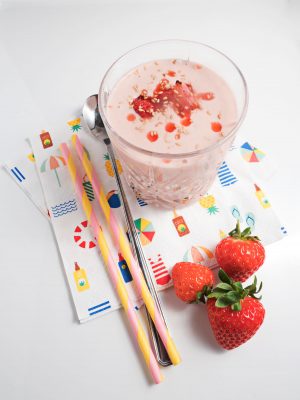 Rich and creamy Strawberry Tahini Smoothie to kick start your summer days.
1

frozen banana

200

gram

strawberries

3

tbsp

tahini

2

tbsp

rice syrup

2

tsp

roasted sesame seeds

200

ml

yoghurt or buttermilk

salt
Preheat oven to 200°C. Wash and quarter the strawberries. Put them in a small oven dish and cover with rice syrup and add a pinch of salt. Mix well and let it sit for about 10 minutes. Now roast the strawberries for about 20 minutes until they are soft and release their juices. Remove from the oven and let them cool. (You can easily make this ahead a day before.)

Put a few strawberries aside for decoration. Now toss the rest of your strawberries into a highspeed blender. Add the frozen banana, yoghurt and tahini and blend until smooth. If you like a thinner texture add some cold water or some ice cubes. Top with the leftover strawberries and roasted sesame seeds.